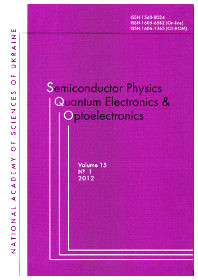 S

emiconductor Physics,


Q

uantum Electronics &


O

ptoelectronics

(SPQEO)

ISSN 1605-6582 (On-line) | ISSN 1560-8034 (Print) | ISSN 1606-1365 (CD)
DOI: http://dx.doi.org/10.15407/spqeo



---
| new Volume 19 (2016) | Volume 18 (2015) | Volume 17 (2014) | Volume 16 (2013) | Volume 15 (2012) | Volume 14 (2011) |
| Volume 13 (2010) | Volume 12 (2009) | Volume 11 (2008) | Volume 10 (2007) | Volume 9 (2006) | Volume 8 (2005) |
| Volume 7 (2004) | Volume 6 (2003) | Volume 5 (2002) | Volume 4 (2001) | Volume 3 (2000) | Volume 2 (1999) |
| Volume 1 (1998) |
---
TOPICS
Semiconductor Physics, Quantum Electronics and Optoelectronics (SPQEO) is an international scientific journal publishing fundamental and applied papers and short notes in the area of:
• semiconductor physics;
• hetero- and low-dimensional structures;
• physics of microelectronic devices;
• linear and nonlinear solid-state optics;
• optoelectronics and optoelectronic devices;
• quantum electronics;
• sensors.
Brief advertisements and announcements of conferences and publications on related topics are also published in the journal.
INFORMATION
Information valuable for post-graduates and doctorants (in Ukraine). SPQEO journal are adopted by the Highest Attestation Commission of Ukraine as an edition where results of candidate and doctor theses may be published and taken into account when conferring respective scientific degrees.

Editorial Board
Information for Authors
Copyright Transfer Form
Information for Subscribers
List of Foreign Libraries Having SPQEO
Publication Ethics and Publication Malpractice Statement
EBSCO PUBLISHING ASSISTANCE
Due to kindly assistance of EBSCO PUBLISHING (www.ebsco.com) (Ipswich, Massachusetts, 01938-0682, USA) all the materials published in the journal Semiconductor Physics, Quantum Electronics and Optoelectronics starting from the Volume 6, #4, 2003 are presented in 32 databases
SUBSCRIPTION
You can subscribe SPQEO printed version (ISSN 1560-8034; subscription index 22779) or order CD-ROM with all issues of journal with search ability (ISSN 1606-1365). For more information, please, contact with journal executive secretary.